Posology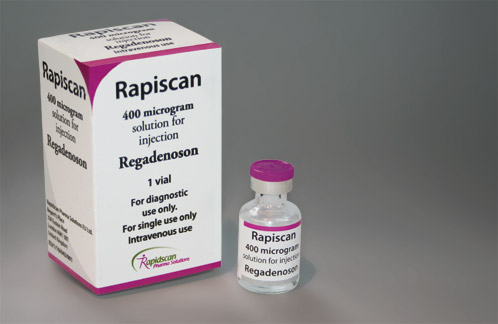 The recommended dose of Rapiscan is a single injection of 400 micrograms (mcg) regadenoson (5 ml) into a peripheral vein, with no dose adjustment necessary for body weight.
Rapiscan causes a rapid increase in heart rate. Patients should remain sitting or lying down and be monitored at frequent intervals after the injection until the ECG parameters, heart rate and blood pressure have returned to pre dose levels.
Patients should avoid consumption of any products containing methylxanthines (e.g. caffeine) as well as any medicinal products containing theophylline for at least 12 hours before Rapiscan administration. View Interaction with other drugs
When possible, dipyridamole should be withheld for at least two days prior to Rapiscan administration. View Interaction with other drugs
Aminophylline may be used to attenuate severe and/or persistent adverse reactions to Rapiscan. View Interaction with other drugs
Repeated use: This product is to be administered only once within a 24 hour period. Safety and tolerability of repeated use of this product within 24 hours has not been characterised.
Paediatric population: The safety and efficacy of Rapiscan in children below the age of 18 years have not yet been established. No data are available.
No dose adjustment is necessary for
The elderly
Hepatic impairment
Renal impairment