Injection Protocol


Current protocols for pharmacologic stress MPI are complex. They require calculation of weight-adjusted dose, preparation of dose by dilution with IV fluids, syringe pump set-up, calibration, and ongoing maintenance, infusion line set-up and coordination of stress infusion with radiotracer injection.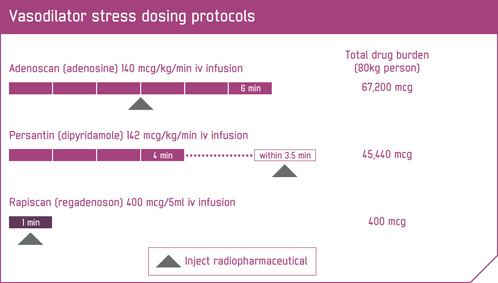 Unlike older vasodilator pharmacological stress agents, which are administered according to a patients weight and infused over several minutes with the aid of an infusion pump, Rapiscan is administered in a single unit dose with a 10-second injection.
For Rapiscan, the overall protocol, including the administration of the radiopharmaceutical, is less than one (1) minute.


References
Adenoscan (adenosine) Summary of Product Characteristics, Sanofi Aventis

Persantin (dipyridamole) Summary of Product Characteristics Boehringer Ingelheim

Rapiscan (regadenoson) Summary of Product Characteristics, RPS EU