Shielding products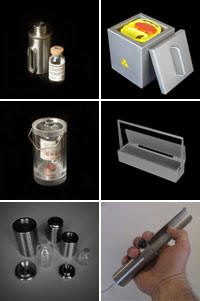 A range of tungsten syringe shielding products are developed according to user
specification.
Tungsten vial containers Model 788
Shielded tungsten vial containers suited for nuclear medicine. It features a screw cap on
top, and a click on cap that allows the operator to access the vial. A lead glass window for viewing the liquid level in the enclosed vial is optional. The tungsten construction makes
this vial shield virtually unbreakable. Optional lead glass window on request.
Other inside dimensions and shielding equivalents on request.
Sharp Needle Waste Container Model 889
Shielded stainless steel waste container for the storage of contaminated needles and
waste. To be used in combination with yellow insert waste containers (econorm ® UN 3291)
Other inside dimensions and shielding equivalents on request




Key features:
Use the link below for further information (see more)